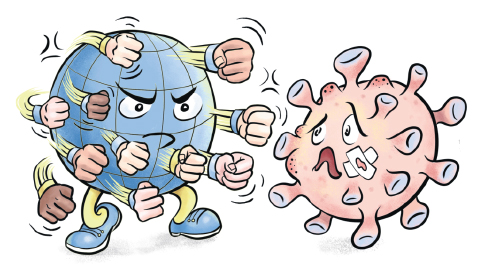 By Mike Cronin
There are some folks who seem to think that because COVID-19 cases and death rates are roughly similar to the annual flu, that we are blowing the disease out of proportion or dismissing it.  While there is some out-of-proportion fear-mongering AND some unwarranted dismissiveness going on, and while COVID-19 may indeed turn out to be of similar menace level as the annual flu, the flu is still there. COVID-19 is happening ON TOP OF the flu, not instead of it, and there is no vaccine yet. That's why there is genuine concern over the number of hospital beds and respirators, and that's why COVID-19 can't be easily dismissed.
Concurrently, panic-pushers, America haters, and political opportunists are giddily touting that the US now has the most reported cases of COVID-19.  There are a few things they are omitting:
The US has the most REPORTED cases. What about UN-reported cases? Do you think all of the countries not as transparent or as capable as the US really have lower case numbers and lower infection rates?
China has nearly five times the population of the US, and most Chinese citizens live in dense urban sprawl. The Communist party would have us believe China had a peak of only ~80,000 cases. Do you really think the disease is done there, or that the Communist government is reporting accurate numbers?
Do you think Iran or Russia even know how many cases they have, let alone are reporting accurate numbers?
Our reported cases have recently exceeded Italy's (105K cases vs 85K). But Italy has roughly one-fifth the population of the US.  In other words, Italy has fewer absolute cases, but their infection rate is over four times higher than ours. (Infection rate = cases/population. Italy = 85K vs 60M or 0.14%. US = 105K vs 325M, or 0.032%). Worse, the COVID-19 death rate in Italy is almost 10 times higher! (10.5% in Italy vs 1.6% in the US.) https://www.cebm.net/covid-19/global-covid-19-case-fatality-rates/
So, what's the upshot?
The truth is in the middle:
As ever, news outlets are trying to sell airtime to advertisers. They do that by getting ratings. Breathless coverage and ominous alerts will induce alarm, and that will keep the ratings higher than dispassionate, in-context reportage.
COVID-19 is a slow-moving natural disaster that is affecting the entire planet – but it's not the worst such thing that could happen. It won't wipe us all out, not by a long shot; but we do need to address it.
Absolute numbers of reported cases don't tell the story very well. Infection rates and death rates are better indicators.
Criticizing anyone for what has already happened won't solve the crisis – but it may be a fun diversion!
Social distancing and attending to surface and hand hygiene are effective in slowing the spread of disease, but it rankles and induces fear to be commanded by government to all but shut down the economy.
Our politicians would all do well to remember that the USA was born when our Founders penned the most eloquent "F*ck You!" ever written in response to too much government intrusion (the Declaration of Independence).  Americans are not the most obedient lot in normal times, and just now there is an up-welling of  F*ck You brewing. Politicians must tread very carefully indeed.
We are going through some scary times, but the fundamentals of our geography and the political system our Founders instituted will have us come out of this thing in better shape than any other country.  Stay strong.